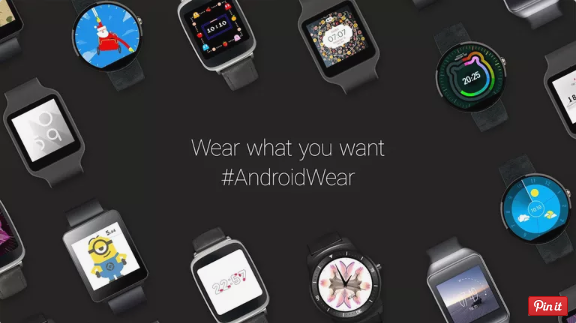 Changing the watch face on your smartwatch is one of the easiest ways to customize your wearable device—and it can go a long way toward adding your personality and unique flair to this wrist-worn gadget. Wearables running Android Wear are different from the popular Apple Watch and so have different ways to customize how it looks. If you own an Apple Watch, check out how to change the watch face on your Apple Watch.
Android Wear Devices
Before we dive in to the steps for switching out the digital watch-face design, let's take a minute to review what, exactly, is an Android Wear device. You'll find a complete list of currently available models here, but to recap: These are smartwatches that run Google's wearable software called, you guessed it, Android Wear. This is the other main wearable platform apart from Apple's software for its Apple Watch lineup of products, and it includes all the functionality you'd expect, from notifications for incoming texts, emails and more to at-a-glance Google Now updates.
Some of the top Android Wear smartwatches include the Motorola Moto 360, the Sony Smartwatch 3, the Huawei Watch and the LG Watch Urbane. If you know you want a smartwatch running Android Wear but aren't sure exactly where to go from there, consider narrowing down what type of design you'd prefer to sport on your wrist. For instance, some options, like the Moto 360, have a round watch display, while others, like the Sony Smartwatch 3, have a rectangular display and look a bit bulkier. You'll also want to think about whether you want a casual or fancy design, since some options, including the Huawei Watch, look dressier than others.
Where to Download Android Wear Watch Faces
So, you've decided upon an Android Wear smartwatch, purchased it and maybe even have the newly arrived gadget in your hand right now. What do you do now? Well, you'll certainly want to download the apps that make the wearable most useful to you—from apps that track your workouts to weather apps, productivity apps and more—but you also might want to download a watch face that has a bit more personality than the standard option that your smartwatch shipped with.
To download a new Android Wear watch face, head to the Android Wear app on your smartphone. Under the image of your watch, you'll see a selection of watch faces. Click "More." Then, scroll down to the bottom of the screen and touch "Get more watch faces." You should be able to view and download a wide variety of watch faces from here. If you're looking for some inspiration, check out this slideshow that highlights some of the best Android Wear watch face options.
Note that this isn't the only option; you could also pay $1 to download the Facer app and explore and choose thousands of watch faces for Android Wear and other platforms. But if you're just getting started, you might as well try the "free" method first.
Okay, so let's now assume that you have downloaded the watch face you'd like to use on your Android Wear device. From here, you have three methods for changing up the face on your wearable.
Method 1: From the Background of Your Watch's Screen
This first option lets you switch up the watch face from the smartwatch's screen.
Step 1: Touch the screen to wake up your watch if the screen is dim.
Step 2: Touch and hold any place on the background of the watch screen for two seconds. You should then see a list of watch faces to choose from.
Step 3: Swipe from right to left to see all your options.
Step 4: Touch the desired watch face.
Method 2: Through the Android Wear App on Your Smartphone
This method goes through your smartphone rather than the Android Wear smartwatch itself.
Step 1: Open the Android Wear app on your phone.
Step 2: You'll see a selection of watch faces under the image of your watch in the Android Wear app. If you see your desired pick, touch it to select it. Otherwise, hit "More" to see additional options.
Method 3: Through Your Watch's Settings
This final option requires the most steps, but it accomplishes the same goal and the steps are relatively easy to follow.
Step 1: Touch the screen to wake up your watch if the screen is dim.
Step 2: From the top of the screen, swipe down.
Step 3: Now swipe from left to right until you see Settings (with the gear icon), then touch it.
Step 4: Keep scrolling until you see "Change watch face."
Step 5: Touch "Change watch face."
Step 6: Swipe from right to left to view all your watch face options.
Step 7: Touch your desired option to select it.
Other Ways to Customize Your Android Wear Watch
Hopefully this article has made it clear just how easy it is to find a unique Android Wear watch face and to install it on your smartwatch. Once you have that accomplished, however, you may want to further customize your wearable device.
There's another main way to add character to your smartwatch, and that's by swapping out the strap. Fortunately, most Android Wear watches use a 22mm band, so you shouldn't have a hard time finding a third-party option that both works and suits your fancy. If you don't know where to look, consider first perusing the official options sold by the watch maker, and if nothing catches your eye, head over to Amazon and browse the broader selection of straps.
( Original news from lifewire.com )